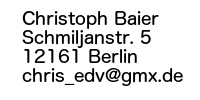 Privacy Policy
Data protection provisions
This website uses WordPress Stats and Piwik.
This website uses Matomo (formerly Piwik), an open source software for statistical analysis of visitor access. Matomo uses "cookies", which are text files placed on your computer, to help the website analyze how users use the site. The "session cookies" used are text files that are only temporarily stored on your computer. They are deleted as soon as the web browser is closed. The information generated by the cookie about your use of our website is stored on a server. Collected data will not be passed on to third parties and serve the identification and improvement of relevant contents of our Internet offer. The IP address is made anonymous immediately after processing and before it is stored. Matomo is configured based on the recommendations of the Independent National Center for Data Protection (ULD) and follows the applicable data protection regulations. By using this website you agree to the processing of the data collected about you in the manner described above and only for the aforementioned purpose.
This website uses WordPress.com-Stats, a tool for statistical analysis of visitor access, operated by Automattic Inc, 60 29th Street #343, San Francisco, CA 94110-4929, USA, using tracking technology from Quantcast Inc, 201 3rd St, Floor 2, San Francisco, CA 94103-3153, USA. WordPress.com-Stats uses "cookies", which are text files placed on your computer, to help the website analyze how users use the site. The information generated by the cookie about your use of this website is stored on a server in the USA. The IP address is made anonymous immediately after processing and before it is stored. You may refuse the use of cookies by selecting the appropriate settings on your browser, however please note that if you do this you may not be able to use the full functionality of this website. You can object to the collection and use of data by Quantcast with effect for the future by setting an opt-out cookie in your browser by clicking on the link "Click here to opt-out": http://www.quantcast.com/opt-out. If you delete all cookies on your computer, you must set the opt-out cookie again.